Asus has launched its first foldable 'Asus Zenbook 17 Fold OLED' Laptop in India, which is going on sale at Nov 10, 2022. This Laptop sports 17.3-inch foldable OLED display which can be used as Laptop or large Tablet. We can use this Laptop as tablet also. After folding Laptop, we will get 12.5-inch viewing area, whereas the remaining area is act as on-board screen keyboard. So I think this is the first Laptop from Asus, which can be used as Laptop as well as Tablet. If you like this Laptop then Below I will tell you more about this Laptop, which will really help you to understand better.
Tech Company Asus launches its Laptop every year. Asus launches its Laptop with advanced technology other than Tech Company. This Asus Zenbook 17 Fold OLED laptop will be the best laptop for gamers, content creatore or working professionals. It comes with 17.3-inch OLED display and powered by 12th-Gen Intel Core i7-1250U processor with ten cores. It supports 16GB LPDDR5 RAM and 1TB SSD. All these features will really help to get better overall performance.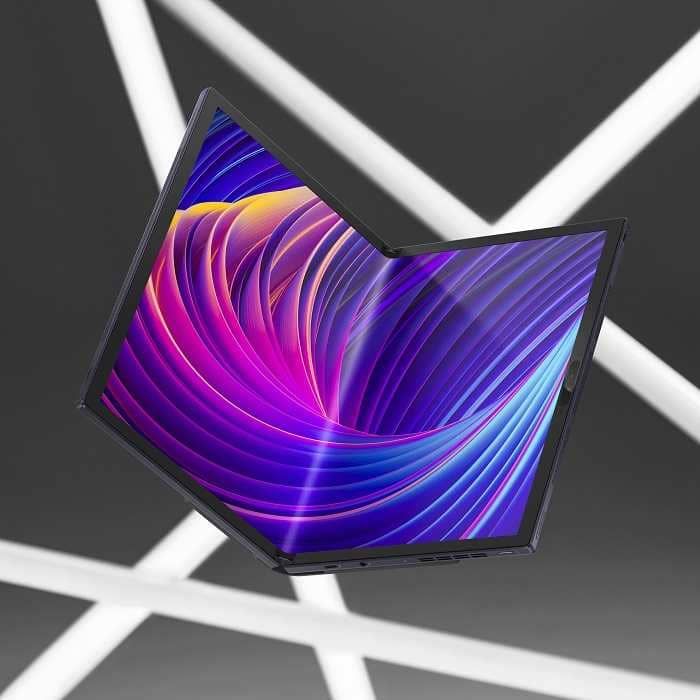 Asus Zenbook 17 Fold OLED Price in India & Availability
Accroding to Asus, It is the first Foldable Laptop with 17-inch OLED touchscreen display. It is available in India for users at Online or Offline market. If you are planning to buy this Laptop then Purchase from E-commerce website, Asus Store and other stores. Asus Zenbook 17 Fold OLED Laptop available for Indian user for Rs. 329,990. But It was available for pre-book for Rs. 2,84,290.
Asus is offering 5000 cashback on multiple bank's credit and debit card. you can get this discount from both online or offline stores. This Laptop will really give you, what you expect by this. It is a powerful machine for any kind of work. It can handle any hard task easily. If you want to experience both Laptop and tablet then you can go with this Laptop.
Asus Zenbook 17 Fold OLED : Specifications
Display
This Laptop comes with 17.3-inch OLED touchscreen display which offers 2560×1920 resolution, when it will in its unfolded form factor with 4:3 aspect ration. When folded, the display offers a 1920×1280 pixel resolution with 3:2 aspect ratio. This Laptop is TUV Rheinland-certified which will help for reducing harmful blue light. As I before mention, you can use 17.3-inch display without fold. If you want to fold this laptop then you will get 12.5-inch viewing area so the reamining area will used as on-board screen keyboard. It equipped with 100% DCI-P3 gamut and Dolby Vision Support. The hinge is tested to withstand over 30,000 open cycle and close cycles, claims by Asus.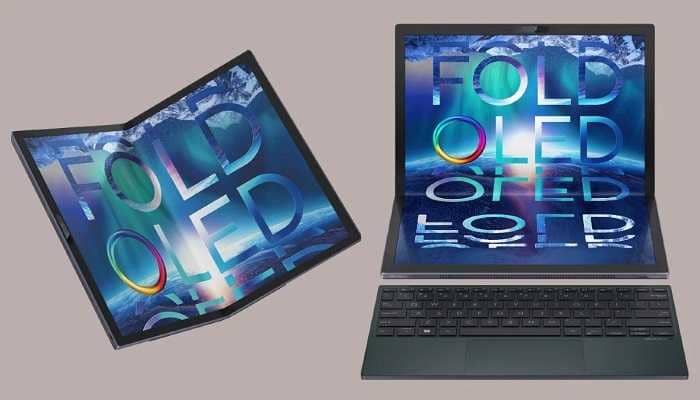 Processor & Performance
This Folded Asus Zenbook 17 Fold OLED Laptop powered by 12th Gen Intel Core i7-1250U chipset with 10 cored. So there are 8 efficiency cores and 2 performance core. It comes with 16GB 5200MHz LPDDR5 RAM and 1TB PCIe 4.0 SSD type storage. These storage features will really boost your Laptop overall performance. The New Asus Zenbook 17 Fold OLED Laptop comes with 82-blade high performance fan, which will really maintain overall temperature of Laptop.
Webcam
A 5MP camera attached with this Laptop. The camera is capable to record 1080p at 30FPS (frame per second). A 5MP camera will really help you to attend online meeting. There are another software function available, such as background filtering, motivation tracking, etc.
Speaker
There are four speaker on the Asus Zenbook 17 Fold OLED, which is certified by Harman Kardon. These speaker will loud and supports Dolby Atmos, offering enhanced sound quality. You can connect external music device through the 3.5mm jack.
Bluetooth Keyboard
The Asus Zenbook 17 Fold OLED Laptop comes with a small Bluetooth keyboard, which can be transport easily. This Bluetooth keyboard is very thick and carry easily with Laptop anywhere. There is a USB-C port, which will used for charging this Bluetooth Keyboard. Only thing, I don't like about this keyboard is that it does not have lights in the Keyboard.
Ports & Connectivity
In terms of connectivity, It offers two Thunderbolt 4 Ports and each port offers 4k display output and 40GB/s data transfer speed. It supports Type-C 65W fast charging and can be topped up using any USB PD charger. Unfortunately, It does not have USB-A port but it has 3.5mm Audio Jack, which will really helpful to enjoy music using Headphone. It comes with Wi-Fi 6E and Bluetooth connectivity options.
Bettery
This Laptop is powered by 75Wh battery. It is not a big battery for this type of Laptop. You can not expect more than six or Seven hours battery life in single charge. But battery life is also depend on usage of Laptop. It Supports 65W fast charging which helps you to charge Laptop fast.
Verdict
This is a really powerful machine, which can help you to get better performance. But in India, it will not gain much customer because of its price. Price also play improtant role in India market. If you have enough budget then you can consider this Laptop. Undoubtly, It will deliver high-end performance to users. There are multiple Laptops in the market, which delivers same performance.