Everyone has their Gmail ID and millions of mails delievered everyday. There are many chances that everyone get Spam email. All Spam mails, we get from ramdom IDs, Promotional emails from brands and newsletter that we never subscribed to. If you very too annoyed with these mails then I will tell you Best Tricks To Block Spam Emails in Gmail. All these steps are very easy.
Gamail has built-in tool to report spam mails. We can block any user from sending these unuseful mail over your gmail ID using Report Spam. These are the easyest way to report mails as Spam Emails. There are multiple options to block unnecessory mails or spam mail. Below I will tell you all these easy method to stop spam Emails on your gmail. If you follow these steps then in Future, You will not get unnecessary Emails.
Best Tricks To Block Spam Emails in Gmail
1. How to Block Email Addresses on PC & Mobile
If you are planning to block any Email addess because that are sending you unnecessery mail without any reason. There are many compnies which send regularly mails for their promotions. If you block those email address then you will not get any mail from those emails IDs.
Steps:
Open your Email ID's and Log In.
Open particular mail, you want to block.
Click on Three dots which shows at the corner at your mail.
After clicking on three dots, There are lots options you will get.
You will see "Block" option, click on it. Then
You will redirect on new page and click on "Block"
2. How to Block Spam Mails in Gmail on your Computer or Mobile
If anyone is sending mails again and again without any reason and you want to spam that mail in your gmail account. Some People send misleading emails and want to mislead you. What are the setps to block email ID's. I have told you below.
Steps:
Open Gmail ID's on your computer or Mobile.
Go on particular email.
Click On three dots and you will get many options there.
Click on Spam options to stop spam email on your device.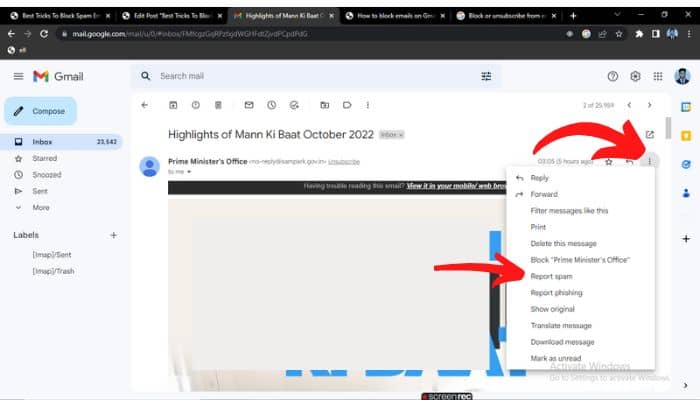 3. How to Unsubscribe From Particular Message
In gmails, there are two (Use the unsubscribe email link and use Email's unsubscribe features) options to ubsubscribing to newletter or other mailing. Using both the features, you can unsubscribe a particular mail which you don't want on your gmail ID's.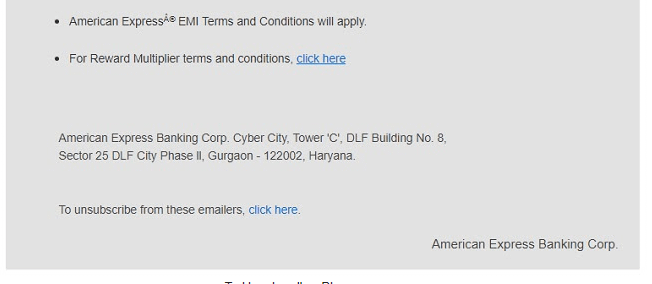 Here you will find a option which is "To unsubscribe from these emailers – Click here". Then click on "click here" option and you will redirect on new page. On new page, yu will have to select anyone reason, why are you unsubscribe mail. After select anyone reason then click on ok. You will see that you will not get any mail from unsubscribe gmail.
4. Use temporary email ID
To avoid all unnecessery emails, you can create and use temporary email ID on random websites. When you share your origional ID then ID shared with different third parties, so getting spam mails may increased. You can create temporary ID, there are many website which provide free mail ID. All these ID's may reduce spam mails risk and your personal information may not leak with anyone.
Conclusion:
All these are methods, you can apply on your gmail ID's to stop spam or unnecessery emails. You can apply easily on your phone or Laptop. There are many other method present but about them We will discuss later. There are main reasons that happens with user and you can fix your problem with these method.
Read More: